Houston, Is There a Problem? by Eric Walters
Thirteen-year-old Houston Williams is smart. Very smart.
So no one is surprised when he earns a scholarship to attend a prestigious NASA space camp. At the training facility he immediately bonds with his new team, including a girl named Teal. He also clashes with a girl on a rival team named Ashley, who matches or beats him in every exercise. The three of them impress the directors so much they are invited to join a top-secret research project that studies how space travel affects people of different ages. But only two of them will actually be going into space. Houston will do whatever it takes to make sure he"s picked.
The Diamond Eye by Kate Quinn
In 1937 in the snowbound city of Kiev (now known as Kyiv), wry and bookish history student Mila Pavlichenko organizes her life around her library job and her young son—but Hitler's invasion of Ukraine and Russia sends her on a different path. Given a rifle and sent to join the fight, Mila must forge herself from studious girl to deadly sniper—a lethal hunter of Nazis known as Lady Death. When news of her three hundredth kill makes her a national heroine, Mila finds herself torn from the bloody battlefields of the eastern front and sent to America on a goodwill tour.Still reeling from war wounds and devastated by loss, Mila finds herself isolated and lonely in the glittering world of Washington, DC—until an unexpected friendship with First Lady Eleanor Roosevelt and an even more unexpected connection with a silent fellow sniper offer the possibility of happiness. But when an old enemy from Mila's past joins forces with a deadly new foe lurking in the shadows, Lady Death finds herself battling her own demons and enemy bullets in the deadliest duel of her life.
Based on a true story, The Diamond Eye is a haunting novel of heroism born of desperation, of a mother who became a soldier, of a woman who found her place in the world and changed the course of history forever.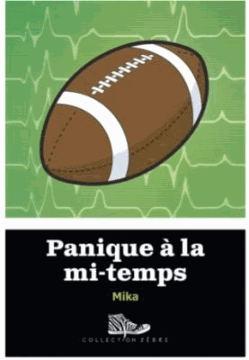 Panique a la mi-temps by Mika
Juste avant la fin de la saison des Ours noirs de Notre-Dame-du-Montplaisir, une équipe de football de niveau secondaire réputée pour son grand succès, de même que leur important match les opposant aux Guépards de Champs-des-Vallées, Paul apprend qu'il est le nouveau capitaine de la formation. Épaulé par son ami Jean-Boris, présentateur en herbe, ainsi que par Fernande, sa grand-mère athlétique, le joueur sent cependant que quelque chose cloche alors que les professeurs manigancent dans le dos des élèves et que la seule joueuse des Ours noirs, Nora, est remplacée par un inconnu de 6 pieds 2 pouces et de 220 livres. À la mi-temps de la joute contre les Guépards, une vidéo impromptue leur annonce une bien mauvaise nouvelle, qui chamboulera les esprits pour le reste du match. [SDM],Un roman sportif qui verse sans retenue dans l'humour, au point où la trame est régulièrement déviée de sa trajectoire afin d'y incorporer des situations et des conversations plus ou moins risibles. Si la note est ainsi un peu trop forcée à ce niveau, la lecture demeure légère, en plus d'être simplifiée par des dialogues en langue orale et par de multiples images de synthèse en noir et blanc.